ZEST - Vibro Fluid Bed Dryer
Download eBrochure
Introducing
ZENITH presents latest & Updated version of VFBD, called "ZEST" - a value oriented dryer. Drying is the most sensitive stage of Tea making & its efficiency, accuracy & thoroughness are all crucial to the quality of end product. "ZEST" VFBD is the combination of science and technology, a dryer which meets all the parameters of making good Tea.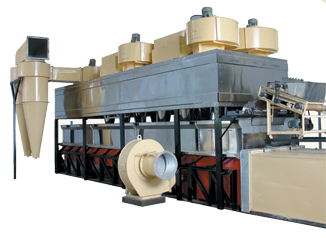 "ZEST" VFBD is highly efficient using latest UK technology fans and specially designed plenum with controlled velocity of air at all the point, improves high thermal efficiency and saves in fuel cost. The grid plate configuration is specially designed to produce denser, blacker, bloomier Teas with excellent liquoring properties. The Unique flow control damper system enables to fire the Teas at a lower temperature and movement of Tea is fully controllable.
Process
The fermented tea is spread over the perforated bed through a mechanical feeder & spreader. The tea is fluidized by hot air pushed into the drying chamber through an aerodynamically designed plenum chamber & the mechanical vibrator which moves the teas forward. The tea is dried uniformly & the moist air is discharged in the atmosphere. The exhaust air from the last zone is recirculated into the air heater for improving fuel efficiency.
Plenum ChamberThe Profile of Plenum Chamber is designed aerodynamically to achieve desired fluidization velocity & pressure for better drying of tea.

Grid PlateThis is made of heavy duty AISI - 304 grade stainless steel. The design, profiles configuration & nos of holes per sq. mtr. are so engineered to ensure better & even fluidization & moisture evaporation.

ExcitationThrough articulated design & vibration system, the tea fluidizes angularly and then circulates and this sequence follows to attain perfect drying of tea particles uniformally.

Dust Extraction SystemThe cyclone system with automatic refiring of wet & fly off, design is uniquely designed to dry teas uniformally. Only hot air is blown out. No fly off around the dryer. The fans cyclone & ducts are made of S.S.Hence, no rusting. The cyclone fans are specially developed on UK Technology for higher efficiency.

Vibration SystemThrough a heavy duty double crank, oscillating vibration is caused to plenum, which is supported by special spring fitted, to cause excitation to the plenum chamber for better movement & fluidization of Tea.
additional special features of "ZEST"
The additional special features added to "ZEST" outdates all VFBD in use and makes "ZEST" a class a part and leaves no choice to the user to think other than "ZEST".
Three Stage temperature Drying ZonesMain Advantages of three stage temperature drying are:- Initial drying at high temperature zone ensures immediate arresting of fermentation process alon with removal of moisture. This is followed by drying at low temperature zone for balanced removal of moisture. This whole process ensures proper enzymic and chemical reactions in the tea and optimizes prevention of losses of important organic compounds.

Flow Control DampersUnique design of air flow control dampers system incorporated help in controlling the thrush-put time of Tea in dryer. Thus residence time of tea in the plenum chamber can be controlled as per the condition of Tea being dried for perfect drying.

Plug Flow type FluidizationThis system ensures thorough mixing of solids with even & uniform drying and eliminates case hardening.




Double CrankWe have incorporated the double crank system for effective trouble free runner with long life of crank bearings. This has added to the efficiency of the system.

critical study has been done in respect of the major points

Temperature & Moisture Loss - relation between two & relative pattern.
The residence time distribution in different stages.
Handling of soft withered leaves to produce better rate.
Constant rate period of drying - Specific drying rate.
Higher & smooth throughput without interruption.
Fuel efficiency & conservation.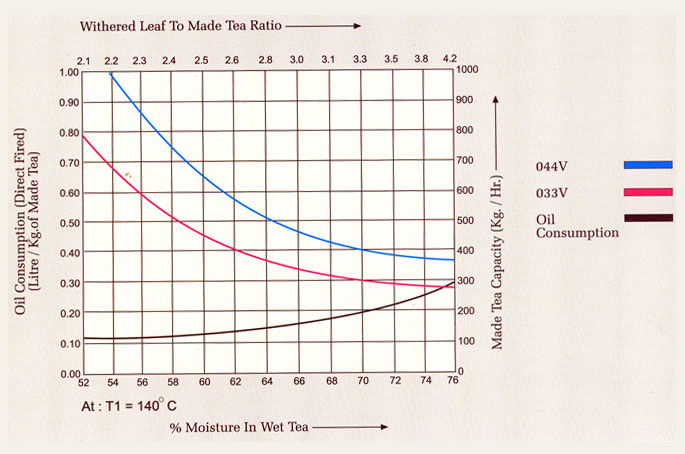 Capacity made Tea (Kgs/Hr.) at T1 135 +/-5C
(Moisture content range of leaf : 76% - 62%)
275 - 400*
375 - 550*
Water evaporation capacity (Kg/Hr.)
750
1100
Size of Drying Chamber L x W (M.M.)
8500 x 1130
8500 x 1700
Heat Load Requirement (KCAL/HR.) at 140 C
6,50,000
9,80,000
Installed Power : HP (KW)
48.5 (36.37)
67.50 (50.62)
Drying System : HP (KW)
33.00 (24.75)
42.50 (31.87)
Dust Collection : HP (KW)
15.50 (11.625)
25.00 (18.75)
Feed Conveyer
(Optional)
(Optional)
Fuel Type
Oil, Coal, Wood, Gas or Steam
Fuel consumption per Kg of made tea
(At ideal Fuel & operating condition)
Direct oil fired : 0.16 Litre, steam : 2.0-3.0
Fire Wood : 375 to 600 MT/M3, Coal : 0.40x to 06.kg, Gas : 0.20kg
Space Occupied L x W x H (M.M)
13830x3810x4100
14100x4700x4100
Containers (20' x 20' x 8') required w/o heater
4
5
Dryer weight excluding heater in Kgs.
10400
12800
*Varies with inlet moisture and the altitude of the Tea Estate
*Heat load supplied to the dryer considering inlet ambient temperature of 180 C
Note : Due to continuous process of development the design is subject to change without notice.